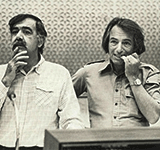 Frequently Asked Questions
If you have a question for the FMF that has not been answered here, please see our Contact page to direct your question accordingly. We will make every effort to respond.
Does the Foundation give grants to individuals?
No. Grant applicants must go through organizations with 501(c)(3) status or institutes of higher learning.
 
Do you fund scholarships?
The FMF funds scholarships to nonprofit institutions and other programs of higher education. These funds may used for institutional programs or for individuals in need of funds for their participation.
 
Does the Foundation give grants to organizations outside of the United States?
The FMF prefers that non-US organizations have an affiliation with nonprofit groups in the United States but will consider grant requests from institutions in other countries.
 
Do you fund CDs, DVDs, magazines or websites?
No, but occasionally scholarly authorship for a CD or DVD booklet or for specific work on a website, book or journal may be funded.
 
What is the average grant award?
The typical award amount ranges from $1,000 – $8,000, although in some cases larger amounts are considered.
 
How do I apply for a grant?
See Grant Funding for instructions.
 
How much time does it take for you to review a grant proposal?
The FMF review committee will meet to consider grant applications only twice annually. For our Spring meeting, please submit your application no later than Midnight Pacific Standard Time on January 31st. For consideration at our Fall meeting please submit your application no later than Midnight Pacific Standard Time on July 31st. Selections will be announced 4–6 weeks after review and awards distributed within 10 days.
 
Our proposal was declined. Can you tell us why?
Competition for grant funds is intense and a number of factors determine if a proposal is declined. Frequently, it is because we are unable to fund every request we receive and unfortunately must turn down many worthy projects. The Board of Trustees looks for exemplary programs and projects that best meet the FMF's goals.
 
May we submit additional letters of inquiry or grant proposals for different projects within the same year?
No. Due to the constraint of limited resources, only one request per organization per 12-month period can be considered.
 
Do you offer volunteer or internship positions?
May I contact someone if I have additional questions?
Yes. Please see our Contact page for information.