The Founders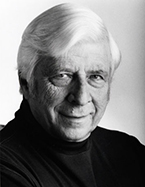 Elmer Bernstein, the esteemed composer and educator, founded the Film Music Foundation in 2001 along with composer Herschel Burke Gilbert and other film music professionals, some of whom continue to serve on the Board today.
Who We Are & What We Do
The Film Music Foundation (FMF) is dedicated to promoting, supporting and preserving the art and history of film music and encouraging continuing high standards in the production of film music for the future. We strive to achieve this by awarding grants to institutions and organizations engaged in film music education. Our funds are used to support workshops in film scoring, scholarly conferences on film music development, the preservation and cataloguing of historic scores for future study, and research and writing on specific film music topics.

We are also a contributor to the Academy Museum of Motion Pictures, a world-class museum in development by the Academy of Motion Picture Arts and Sciences and scheduled to open in Los Angeles in 2021. The museum will offer displays and educational opportunities related to film music.
In addition, the FMF produces an on-going series of in-depth filmed interviews with legendary composers, orchestrators and other professionals in the field. These are available for viewing on our Interviews page.
We invite you to browse our website and, if qualified, apply for a grant by following the Guidelines in the Funding section. You may also find our Resources & Links page helpful in learning about other groups and materials dedicated to film music.
Board of Directors
Patrick Russ, President, is a symphonic orchestrator and music arranger with over 170 film score credits working alongside Hollywood's finest film composers. He has premiered more than 100 symphonic arrangements and film music suites with major orchestras around the world. Patrick is Visiting Professor of Music at the University of Liverpool.
Linda Danly, Vice President, is a songwriter, composer and film music historian. A graduate of Northwestern University in Radio, TV and Film, she wrote and produced television commercials for Disneyland, wrote music for 39 episodes of "Jim Henson's Mother Goose Stories," and produced other children's media. Linda taught "The History of Film Music" at University of Southern California for five years, and is editor of the book, "Hugo Friedhofer: The Best Years of His Life" (see Resources & Links).
Judie Gregg Rosenman, Vice President. Long before she began a career in the entertainment business – as a studio executive, casting director, writer and TV producer – Judie began a life-long love affair with film music born of an early passion for movies and her parents' ever-expanding collection of soundtrack records. Her favorite composer was Leonard Rosenman who, many years later, also became her favorite husband.
Les Zador, Secretary/Treasurer, was one of the founders of the Film Music Society (FMS), a sister nonprofit of the Film Music Foundation (FMF). In the early 1970's he was a writer for the Los Angeles Free Press where he did a series of interviews with prominent film composers including his now legendary 1970 conversation with Bernard Herrmann (see Resources & Links). He currently practices real estate and personal injury law in Encino, California.
Gillian B. Anderson has restored the original orchestral scores written to accompany fifty of the great silent films and has conducted them to picture at film festivals, universities, and performing arts centers with symphony orchestras throughout North and South America and Europe. Her latest performance was Rosita (Lubitsch, 1923), which opened the Venice (Italy) Film Festival in 2018, then at MoMA in NY and the Egyptian Theatre in Hollywood. Several of her reconstructed scores are available on DVD. Published works include: "Music for Silent Films 1894-1929: A Guide," "Ennio Morricone/Sergio Miceli, Composing for the Cinema" and "The score for Way Down East: a harbinger of the future," Quaderni di Musica per Film, 2 (2021): 5-212.  Currently she is preparing a scholarly performing edition of the full score of Way Down East  (Griffith, 1920) to be published by the American Musicological Society in its series Music of the United States of America. (See Resources & Links.)
Tim Burden Surrounded by film music from a very early age, Tim presents and promotes film music on radio, online and in print, encompassing composer interviews, reviews and retrospectives. He also works with the Cinemagic International Film & Television Festival for Young People by coordinating and hosting their annual film music workshop with a variety of film industry professionals. Tim's voice can be heard worldwide on various commercials and trailers.
John (Jack) B. De Nault is an entrepreneur, financier and philanthropist who sits on the boards of many companies and non-profits. His many interests include aviation, ranching, railroading and film music. "My involvement with film music is truly as a long-time fan of this marvelous medium," writes Jack. "I became aware of it at age 11 when I was 'blown away' by the music of Jerome Moross during the opening credits of The Big Country. I remember riding my bicycle down to the local record store because I had to have the LP soundtrack album (my very first one)." Jack was a member of The Film Music Society for 30 years and a founding member of the FMF.
Richard Kaufman is a Grammy-Award winning conductor who has devoted much of his musical life to conducting and supervising music for film and television, as well as performing film and classical music in concert halls throughout the world and on recordings. He is in his seventeenth year with the Chicago Symphony Orchestra concert series, "CSO at the Movies"; his thirty-first season as Principal Pops Conductor of Orange County's Pacific Symphony; and holds the permanent title of Pops Conductor Laureate with the Dallas Symphony. Richard joined MGM in 1984, supervising music for film and television for 18 years. Prior to his career in film music supervision, he played violin in the studios on numerous film and television scores.
Warren Sherk is Head of Special Collections at the Academy of Motion Picture Arts and Sciences' Margaret Herrick Library in Beverly Hills. For more than 15 years he was involved in film music, from music preparation to creating symphonic orchestrations and concert suites. He compiled and edited the extensive "Film and Television Music: A Guide to Books, Articles, and Composer Interviews" (Scarecrow Press, 2011) (see Resources & Links) and several other film reference books.
Christopher Young has scored an impressive number of features in virtually every genre. Following a B.A. degree and post-graduate studies in music, Chris moved to L.A in 1980. Young likes to say that he has two distinct sides: one that is attracted to the abstract ideas of 20th Century music, and the other that is constantly striving to write "The great American tune." That dichotomy has served him well as the composer of almost 100 films including Hellraiser, Wonder Boys, and Spiderman 3. Young has taught a film scoring class at University of Southern California for over 10 years, was a 2-term President of The Film Music Society and President of the Madrid Film Music Festival. Nominated and honored for a variety of awards, including Composer of the Year by the International Film Music Critics Association in 2009.
Nonprofit Status
The Film Music Foundation is a 501 (c)(3) nonprofit California Public Benefit Corporation and is supported entirely through donations that are tax-deductible as recognized by the IRS.
For information about donating to the FMF, please Contact us.